The Uffy Society (FLL Team 25050) meets Washington Governor Jay Inslee, and Representative Roger Goodman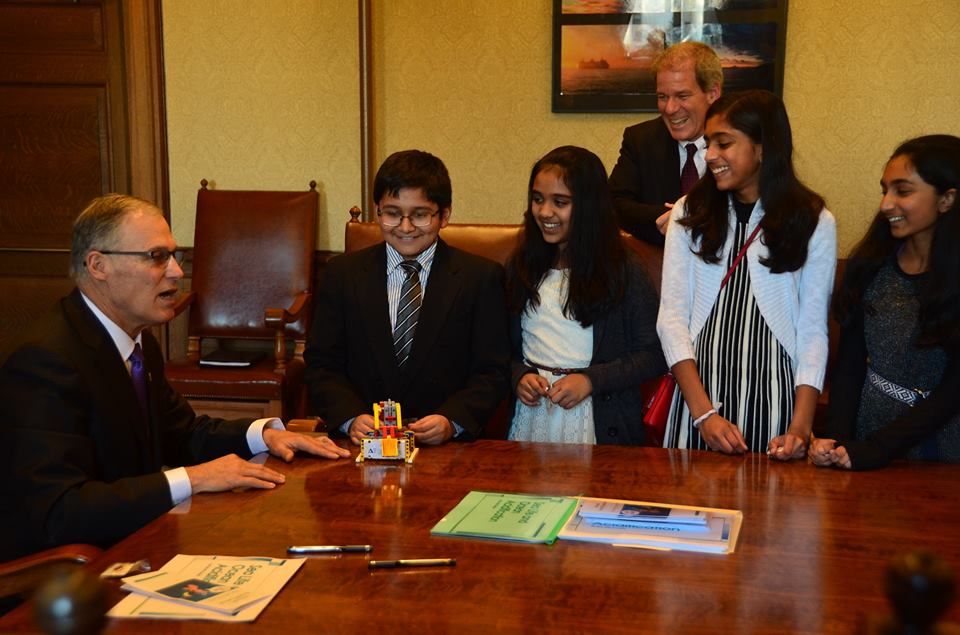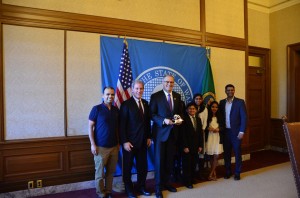 The Uffy Society (FLL Team 25050) met with Washington State Governer Jay Inslee and State Representative Roger Goodman in Olympia yesterday, to present their FLL Research project on Ocean Acidification and how to try and tackle it. Gov. Inslee was quite impressed and provided further input and ideas and asked for their help to spread the word as Washington State coastlines are getting impacted and we need a solution. Further, he mentioned that he is going to nominate the kids for the "Washingtonians of the day" and presented them with the Washington state pin. The kids were beyond themselves!
The team presented the Governor with an Articulated Robot that they had built. Co-Founder of InnerSpark Sanjeev Dwivedi, and Coach Mohanraj Dharamrajan and Mentor Gautam Reddy were in attendance.
Go team Uffy Society for your perseverance, belief in your idea and for making it to this place.
Thank you Representative Goodman and Governor for taking the time to meet us and inspiring the kids to surpass their wildest dreams!!
________________________________________________________________________________________________________
NOTE: Inner Sparks Robotics is a Sister concern of STEM and Robotics Academy in Seattle Area